Arthur Lydiard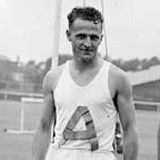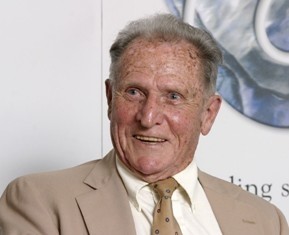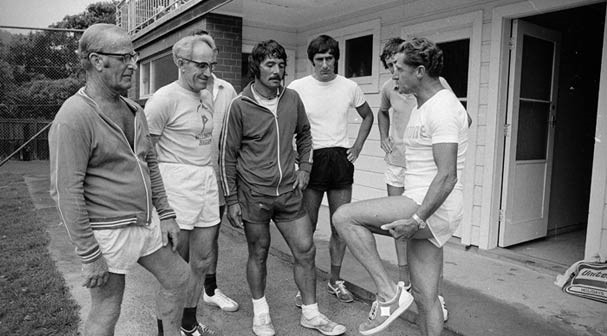 Arthur Lydiard (1917−2004) was a legendary figure in the sport of running. One of the greatest coaches of the world, Lydiard helped popularize running as the commonplace sport it is today. His method of coaching was instrumental in transforming endurance training coaching methods and is attributed as the basis of modern−day coaching methods.
A native of New Zealand, Lydiard was a keen runner who experimented on himself using different training types. He discovered that when he balanced distance with speedwork in his training, not only did his marathon times improve but so did his track times. Lydiard's experiments enabled him to unravel the fundamentals of conditioning and he completed his recipe for training in the 1950's. By then he knew how to mix the marathon type mileages, hill work, leg speed work, sprint training, the sharpening and freshening. Arthur turned his sights to coaching and he adapted these training sessions to meet the needs of different athletes so that they could peak for key races.
Recruiting a group of young men in the suburb of Owairaka in Auckland, Lydiard's athletes achieved great success on the highest stage with this training approach. His most notable successes were with Olympic gold medalists Peter Snell, (800m 1960, 800m & 1500m 1964); Murray Halberg, (5000m 1960); and bronze medalists, John Davies (1500m 1964); and Barry Magee (1964 Marathon). Pictured below from left to right.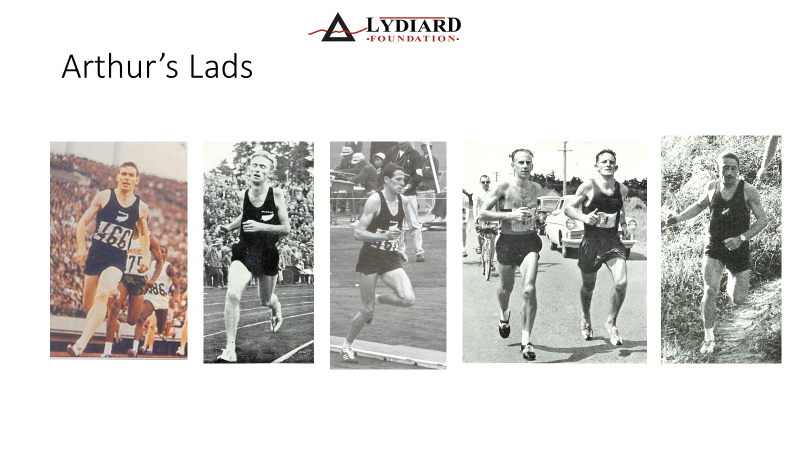 In the 1960's Lydiard began to influence other coaches around the world, working with Budd Winter in Mexico and spending time in Finland, where the coaches of Lasse Viren and Pekka Vasala took his ideas on board. It was in 1972, four years after working with Lydiard, that Viren won Olympic Golds in the 5,000m and 10,000m with a world record in the 10k, and Vasala won gold in the 1500m.
Arthur later influenced coaches to the second generation of New Zealand Olympic medal success, including John Walker (1500m gold medal 1976) coached by Arch Jelley, Dick Quax, (5000m silver medal 1976) coached by John Davies, Rod Dixon, (1500m bronze medal 1972) coached by his brother, John Dixon; (pictured from left to right), and Lorraine Moller (bronze medal 1992) coached by Dick Quax.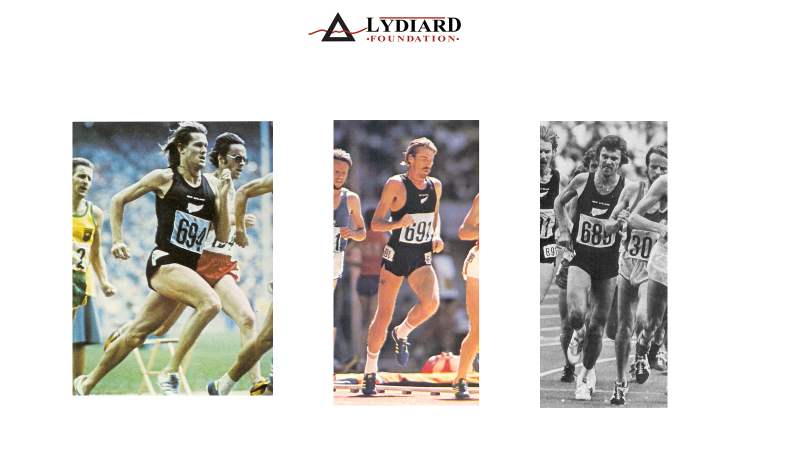 Lorraine Moller was one of a trio of three Lydiard−trained Kiwi women who performed with distinction on the world stage: Allison Roe, whose phenomenal 1981 winning campaign, included the Peachtree Road Race and Boston Marathon and a World Best New York City marathon. Anne Audain took Gold and Silver in Commonwealth Games and was a prolific winner of road races in the USA in the 1980's.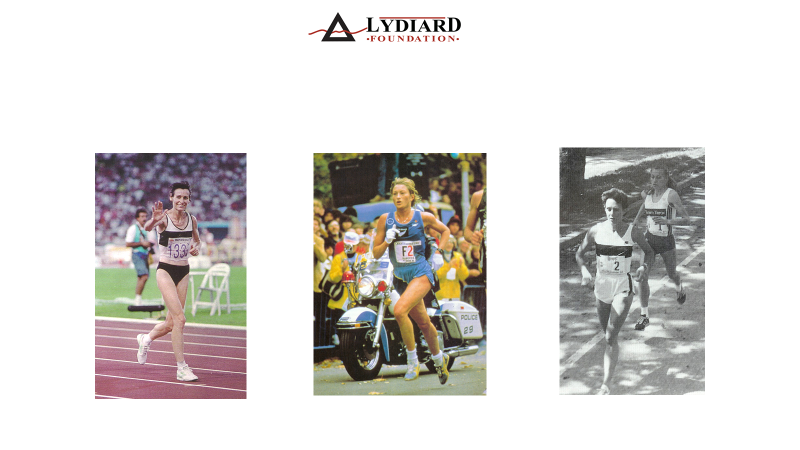 Lydiard's approach was both intuitive and practical, but he later worked with physiology and sports medicine experts to establish the scientific reasons that were behind his success. He made his methods available to everyone and travelled extensively spreading the word on correct training. The Lydiard system has been applied to other sports including rugby, cycling, canoeing, triathlon, ice−skating, rowing and squash.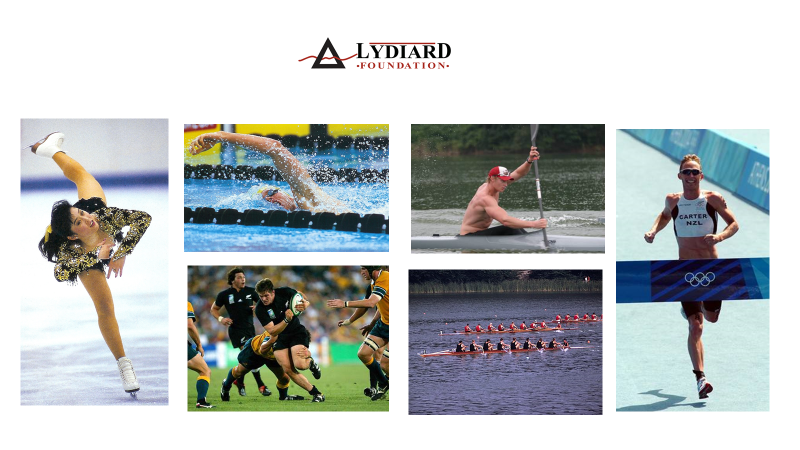 Lydiard was also a strong promoter of running for health and was asked to train a group of heart patients (pictured below) in Auckland with easy distance running. Many of these patients went on to run marathons. The famous American coach Bill Bowerman (pictured above in the cowboy hat with Lydiard) visited Lydiard and took the new jogging approach back to the USA in the 1970@apos;s and the worldwide running boom was born.
Today the Lydiard Foundation promotes Arthur's successful training principles across the world.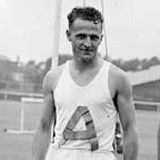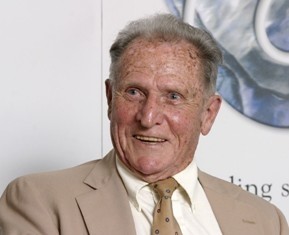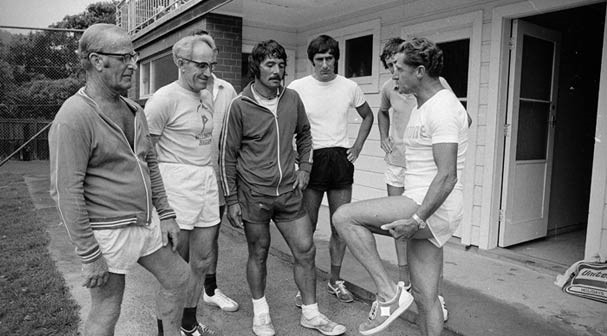 ---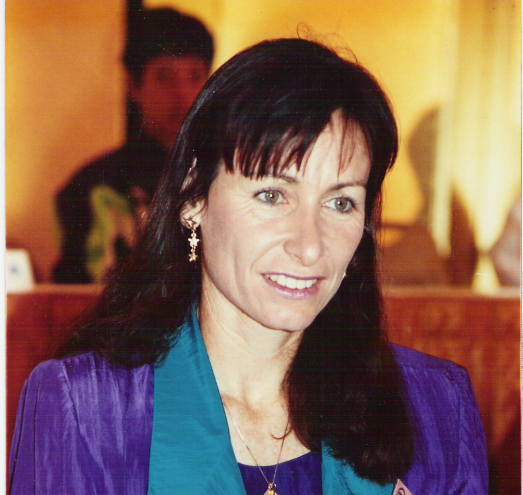 Lorraine Moller
is a 4−time Olympian, Olympic bronze medalist, world track and field finalist, multiple Commonwealth Games track medalist, and winner of 16 major international marathons, including the Boston Marathon. She holds the distinction of being the only woman to have run all of the 20th century Olympic marathons for women. Her career started out in New Zealand as an exceptional 14−year−old middle distance runner, coached by Lydiard protege and 1964 Olympic 1500m bronze medalist, John Davies. Always adhering to the methods of Arthur Lydiard, Lorraine wound up a 28'year stellar career as an undefeated master's runner at her 4th Olympic Games at the age of 41, having performed with international distinction in events from 400 meters to the 50K.
Her wide range of accomplishments earned her the accolade from Sir Peter Snell as "New Zealand's greatest women's distance runner".
Lorraine made her foray into the marathon in 1979 under the tutelage of American Olympian Ron Daws, another Lydiard advocate. During her Olympic years Lorraine trained under the guidance of 1976 5000m silver medalist and Lydiard coach, Dick Quax. She credits her international longevity, event range and mostly injury−free career to Lydiard training and her fine coaches, a dogged Viking determination from both her parents, and her self−woven philosophical approach to competition which she describes as 'an inside'out process'.
Alongside her running achievements, Lorraine was a forerunner for equality in women's athletics, an activist for professionalism in distance running, and an accomplished writer and keynote speaker.
Since retiring from competitive sport in 1996 at the Atlanta Olympics, Lorraine served as vice−president of Hearts of Gold and NGO in Japan, and helped establish charity running events in Cambodia, Mongolia and East Timor.
In 2006 she cofounded the Lydiard Foundation along with her partner in the Foundation, Nobuya Hashizume. Lydiard Foundation is dedicated to educating coaches and athletes in the art of endurance training and peaking.
Lorraine's autobiography "On the Wings of Mercury," published in 2008, was launched by New Zealand's Prime Minister, Helen Clark, and became #2 on the New Zealand Best Seller List.
She lives in Boulder, Colorado.